Today on my twitter feed, I came across a new startup Buttalks – an underwear subscription service for men, first of its kind in India. I found it interesting for someone to venture out into a field that is so different and challenging. Curious to see what they offer, I visited their website and found it to be quite simple and straightforward.
But the minute I tried to fill up the form and hit submit, I ran into a problem. I was confused over which button to click and where to go next. So I decided to do a full design and copy critique/review of the website and share it here.
Here is the screenshot of the entire website for reference. I will paste portions of it in the relevant sections.
Nice play on the Name and Logo
First of all, I love the name Buttalks – rhymes with buttocks. Quite funny and the company's character shows through. But the name does remind me of the scene where Jim Carrey is "assing" a few questions to the detective in Ace Ventura.
But the logo looks good and is a nice play on the words and a guy's butt.
Great Explainer Video
This is a tricky service to sell and they did a good job by having an explainer video at the beginning. There might be other subscription services for underwear in the United States or other countries, but being the first such service in India, you have to teach your target audience, especially if 99% of your audience is not so fashion savvy.
Whoever wrote the script for the video did a great job explaining to men why having a great underwear is very important and how all these days they have not been giving it any thought. It literally shows the viewer the benefits of wearing great underwear.
The second half of the video was about their service and how they solve your problem – in this case giving you "f**ing great underwear". Overall the video was funny, short and easy to understand.
Bonus points for having proper subtitles and not relying on Google's automatically generated closed captions. Most of the viewers today watch video without sound and rely on the subtitles to see what's playing.
But not everyone watches videos
Even though the video does a good job explaining their service, it is very important to include that information in the actual website as text. The first time I visited the website, I didn't watch the video. Instead I was skimming through the text in it.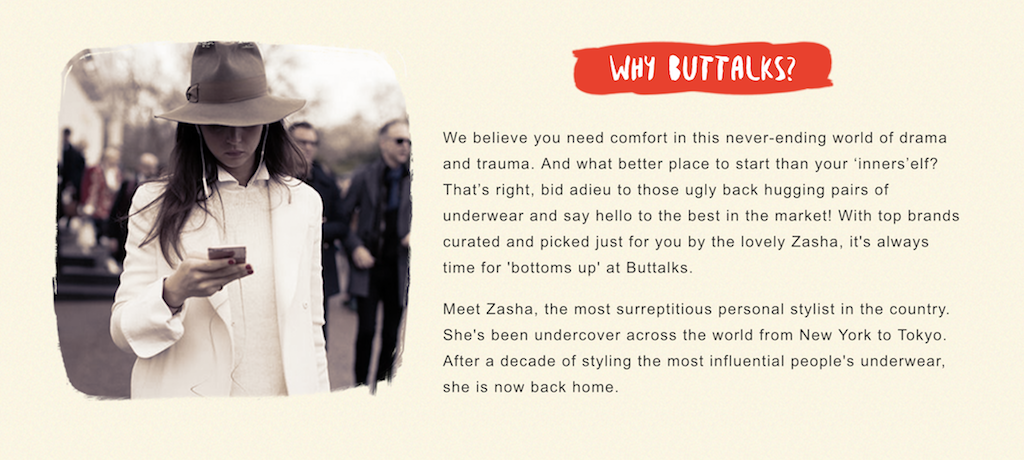 Instead of the "Why Buttalks section", where they explain about a fictional stylist who is going to help pick the best underwear, they should have explained about the problem they are solving in words. Couple of paragraphs would have helped people who hate watching explainer videos.
If you are writing copy for website or any place for that matter, remember this rule. No one cares about you (the writer), always write about what the visitor will get. No one cares about who you are, what you believe in, what your stylist is named. All they care is how are you going to solve their problem.
The "How it works" section does a nice 3 step process on how to get brand new underwear easily. Only change I would suggest is to replace "every season" to "every 4 months" or whatever the frequency you ship new underwear. Not everyone understands season in the fashion sense, especially men.
Easy form to pick your plan
The form to select your plan is simple and easy to understand. But they could've skipped the introductory text on how to choose the right plan. Instead of having separate paragraphs of text explaining the difference between a sampler plan and an annual plan, include short text at the top header of the table which has the text "Sampler" and "Annual".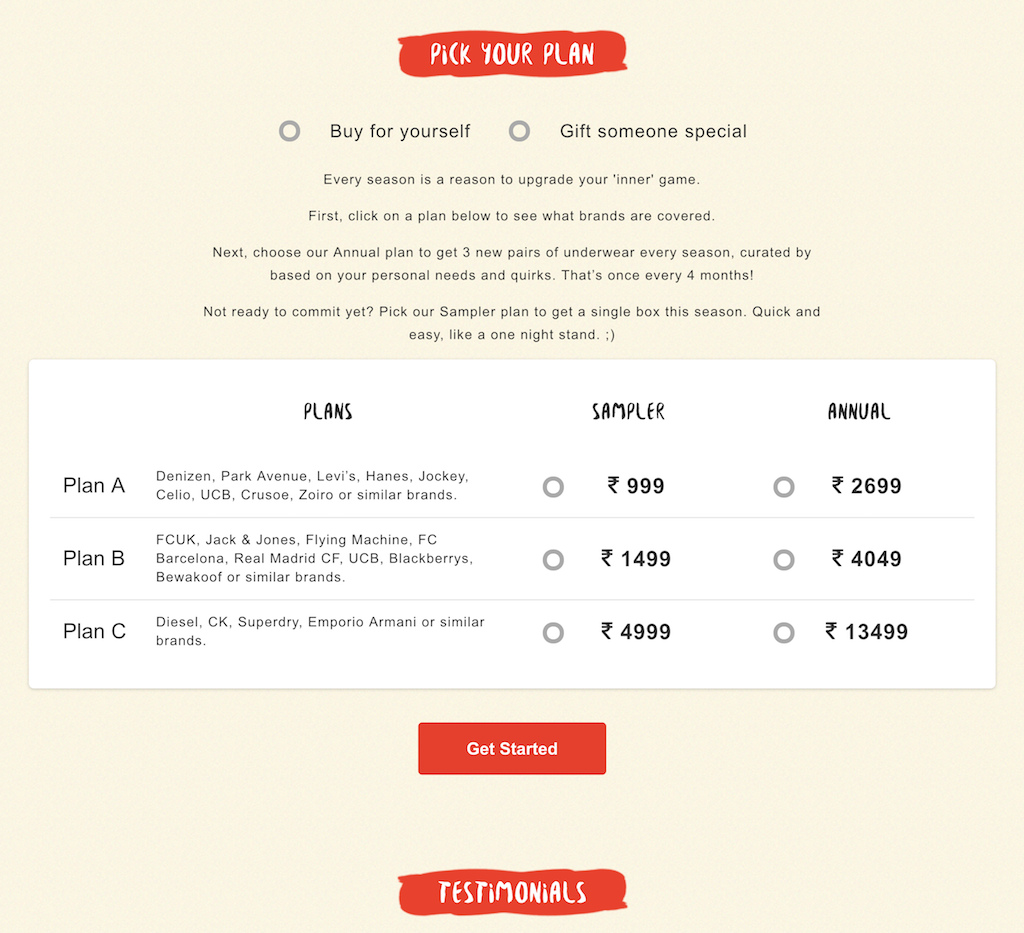 Just including this text in the table header would be enough.
Sampler: One time delivery of 3 underwear.
Annual: 3 underwear sent to you once every 4 months.
Where is the button?
One major issue that I found here was to identify where the button to submit the form is. There is a "Get Started" button and below that is a section heading "Testimonials". Both of them are having an orange color and both look like buttons. Makes users to skip the button altogether.
The button should have been designed with a black background (like the Newsletter subscription button in the footer) instead of the standard orange. In their site, orange background with white text is always Section headings. Don't confuse the user.
No need to register first.
One plus point is that they don't ask the user to register first to fill in the form. You pick the plan and click "Get Started", you are taken to a questionnaire screen. This is just a page 2 of the previous form, but with optional elements. Good that they split the form into two pages, making sure that the user fills in the relevant parts first and allowing him to easily skip the second page if he wants to.
Only after you finish both the forms, you are taken to a Registration screen. Now that you have invested your time into the forms, you might as well register for the site and try it out.
Testimonials for Women
The testimonials section is brilliant. They have put in the right mix of men and women testimonials. One man explaining about the selection and comfort and two women talking about how they are now satisfied because their men now wear non-boring underwear. Also the testimonial of the wife showing how this site solved the problem of not having to go to a physical store to buy underwear for her husband.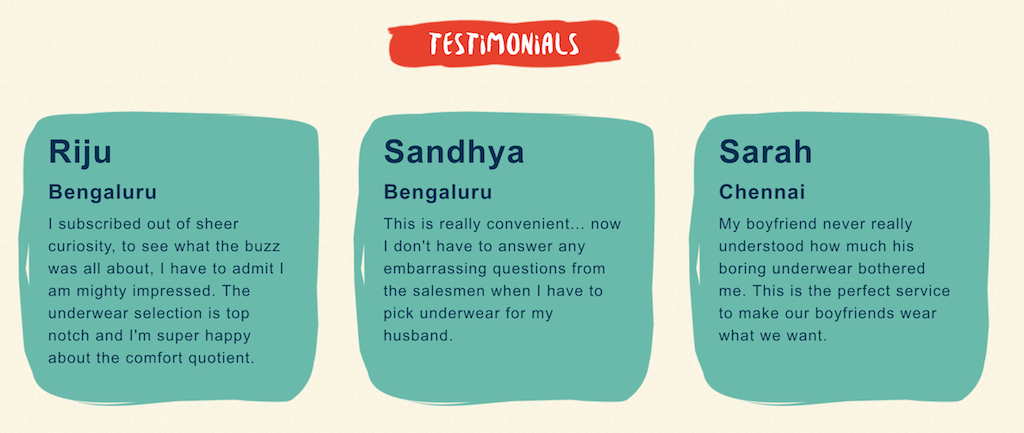 This shows that this service is not just for men, but also women who want to shop underwear for their men. I don't know how many women are waiting for such a service, but I am guessing Buttalks would've done a fair bit of research on it.
Give a reason to Subscribe to the Newsletter
At the end in the footer of the website, they have a form which collects email addresses asking the visitor to subscribe to the Newsletter. This is a common mistake that most websites do. They ask for the visitor's email address, something which is precious to him, without giving them anything in return.
Since they are selling physical products, the easiest reward you can give to a visitor is a coupon code. Provide a 10% one-time only coupon code when someone subscribes to your newsletter. Visitors will be more than happy to give their email.
The advantages of getting an email address are many fold and the 10% discount you are going to give today will pay for itself in a month.
Frequently Asked Questions
Buttalks is trying to imbibe character into the FAQ page too, which is not that great in my opinion. Here is a screenshot of the full-page for reference.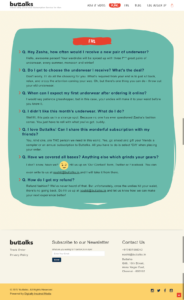 First, they suddenly introduced a character "Zasha" and as a reader, I don't know who it is. Then after going back to the home page, I find out that Zasha is the fictional stylist who picks the underwear. I understand that they are trying to give a human face to the company as a stylist. But the name comes up in only two places. I don't feel connected to the stylist at all.

The third question about when one can expect the first batch to be delivered, has a very vague answer. I am asking a very specific question, and I expect something like "within one or two weeks" would be appreciated.

The next question about what to do if they didn't like a month's underwear doesn't solve the user's problem. I understand that they can't do anything now, but they can have a line or two about how they are building systems where you can give feedback about a particular month's underwear and the stylist would make sure to update your preferences accordingly. Just saying, "we can't do anything deal with it" would decrease conversions.
Also the FAQ doesn't cover all the possible questions that any normal user would ask. Good websites, mess the FAQ page by having only questions that they think are important. Talk to your users and ask them if they have any other questions or concerns. Use that to populate your FAQ page.
One question I think they missed is about discrete packaging. They covered it in the video, but other than that, there is no other mention about discrete packaging. It would have been a good and relevant question in the FAQ. Also the different payment methods available would be another good question to answer.
Blog
They have a link at the top navigation bar to a blog. But that blog is practically empty. Instead of linking to an empty blog, they could have linked to their Instagram page which seems to have funny pictures. It would at least increase the fan followings in Instagram.
Conclusion
Overall, the website touches the right points when it comes to selling their services to their target audience. Good video and nice design. Easy and simple on-boarding process. There are only a few minor things to be fixed which would make it even better. Do note: This is just a review of their website and not a validation or feasibility of the startup's idea.
I hope I did a decent job in reviewing the website and covered the different elements and copy. I am going to continue doing such website/copy reviews, design/UI/UX critique of other websites/startups and writing such articles.
Do leave some comments about this and also suggestions for the website you want me to review next?